4 advantages of studying at CAT via distance or blended learning
Bryce Gilroy-Scott, CAT lecturer and distance learning tutor living in Canada, talks us through distance and blended learning, and explores some of the advantages of studying with us in these ways.
The unique structure of the Graduate School of the Environment postgraduate courses allows us to offer them through distance and blended learning options. Students at CAT have been able to undertake our postgraduate courses this way for many years, but it has never been so relevant given that we're currently all staying at home.
What do we mean by distance learning?
Due to the flexibility of our MSc programmes you can choose to take one of our courses completely via distance learning. This means studying completely away from CAT and taking our modules which are eight weeks long though our Virtual Learning Environment (VLE) platforms. All of our on-site lectures are recorded and you will be able to access slides, lecture notes, online seminars, reading and more through the VLE. All CAT students whether they're taking on-site, distance and blended learning have access to these.
You learn with the same lecturers and tutors that are teaching on-site, alongside a range of visiting and guest lecturers, and entire modules studied at distance are typically arranged as a sequence of teaching activities over eight weeks. You're also able to set your schedule around seminars and group work.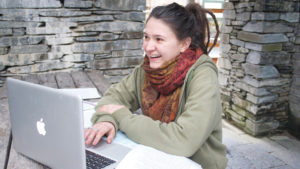 What do we mean by blended learning?
Students also have the option to mix distance learning with on-site learning. We call this blended learning. Our on-site learning model currently allows for a student to study on-site at CAT for one residential week per module. Our residential weeks include lectures, seminars and practical's and also allow you to join fellow students at CAT for an immersive study experience.
Through blended learning, you can choose to take a mix of both these on-site modules and take some others via distance getting the best of both experiences. Some students also take advantage of our blended learning offer to take some of the introductory modules and those that are more practical on-site.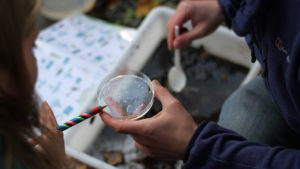 1. Flexibility to study around current life and work commitments
A significant number of our Distance Learning (DL) students choose to undertake their program of study without stopping the 'rest of their lives'. This is a critical advantage for people who wish to maintain their professional track, need to work to survive or have other life obligations that do not allow them to put their life 'on hold' to attend on-site modules. Not only does the flexibility allow you to review lectures, coursework and other course material at times which suits you – but the choice of full-time versus part-time study means that module choices can be decided according to your availability. There are, of course, deadlines for coursework submissions, seminar times for group work and modules dates, but within these boundaries, students are free to engage with our courses as best suits their circumstances.
"I chose to apply for the distance learning programme, part-time (which meant that I could spread the modules across a minimum of 2 years) as it would allow me to continue working as the curriculum delivery was not necessarily tied to traditional 9 – 5 working hours.

As lectures were recorded on-site and timely uploaded to Moodle (UEL's virtual learning platform), I could access information at times that suited me, prior to pre-arranged online seminars with my fellow students and teaching staff to discuss our thoughts, reflections and queries.

I also chose the Masters course because the content is not readily available elsewhere and the freedom offered by CAT to utilise distance learning or a blended learning approach (some modules on-site, some distance learning) is reflective of the open, collaborative and forward-thinking approach of the institution. This freedom allowed me to maintain a healthy balance between study, work and caring for my young family."

CAT Graduate Karen Ridgwell
2. Study anywhere in the world (with an internet connection)
Access to an internet connection allows students anywhere in the world to participate in the learning offered by our distance learning postgraduate courses. Probably an even more significant barrier to participation for people beyond their work and family commitments is the limitations imposed by distance and geography.
Certainly, not everyone can make the choice to regularly travel to CAT but the ability to access the course content and materials and participate in the learning activities is enabled by having an internet connection. All of the lectures, seminars, tutorials and other learning content are available within the online Virtual Learning Environments and other learning activities are offered on common internet platforms (i.e. Skype) for all of the postgraduate courses – and with basic IT connectivity these can be accessed worldwide; one of my students is doing the course part-time while she is working on a ship 'somewhere' in the Pacific ocean, and we also have students joining from
"Studying at CAT sitting thousands of miles away in Muscat… I've never been away from the tutors, and regular seminars allow me to have clarity on matters instantly. Seminars are planned at different times to allow me to select a time that suits me. I would strongly recommend studying via distance."

CAT Graduate Sarath studied with us while living in Muscat
3. Gain a global perspective and join students from a variety of countries
One of my favourite moments of online teaching, is at the beginning of a session and getting a 'hello' from everyone in the group and asking 'Where in the world are you?'. It's quite incredible to get a sense of how many people, often on different continents, can 'meet in a room' to share thoughts and ideas.
The unique nature of the Graduate School's courses means that people who are interested and passionate in their subject areas are drawn to study with us, which can provide for a very rich mix of cultural and social perspectives being brought to the online discussions and tutorial groups. It is particularly fascinating to hear how 'sustainability' is being understood, developed and implemented in different regions of the world.
4. Mix taking module weeks on-site and via distance through blended learning
I do encourage students, if it is an option, to attend at least one of their modules on-site at CAT, preferable as early on as possible. This can be done through by choosing to take some modules via distance and some on-site.
Students who have evenly split their course between onsite and distance learning based on their circumstances are allowing the best of both options, a connection to the site and student networking, while also being able to maintain their employment and personal commitments.
There will be some barriers for many DL students which means that they will not be able to travel to Wales for a module but the CAT camaraderie also develops within DL groups, resulting in students inviting each other to their homes for a drink when they are passing through town.
If a student can make it site to study a module on-site at least once then they will feel the camaraderie at CAT itself too. It's a usual word to use but there is something 'special' about the site. I like to think of it as nearly 50-years of embodied activism which has been imagining, researching and advocating for a social transformation, from one single place. There's something about being on-site that can touch the place of passion which most CAT students have, to 'change the world'. If people have the opportunity to make that connection, it can sometimes ground their studies and offer a deeper commitment to the knowledge and skills learnt and their reasons for studying.
Interested in learning more?
You can read more about our distance learning options here and if you want to find out more, why not join staff from the Graduate School on one of our Virtual Open Days, where you'll have the opportunity to hear more about our courses and join a live Q & A session.
For further questions get in touch with Alis Rees, Graduate School Marketing Officer by telephone on +44 (0)1654 705953 or by email at gsmo@cat.org.uk
About the author
With an extensive background in sustainable architecture, Bryce now works as a consultant and educator with a focus on building energy modelling, renewable energy.
Based in British Columbia, Canada he works with CAT distance learning students and has published and lectured on a wide range of topics from ecological economics to sustainable construction. Before becoming a lecturer at CAT in 2008, Bryce was a student on our old MSc Architecture: Advanced Environmental and Energy Systems course.