CAT graduate wins British Renewable Installer of the Year 
A company founded by a CAT graduate  is celebrating a win as British Renewable Energy Installer of the Year.
Cambridge Solar Ltd was awarded the accolade at the Renewable Energy Association Awards in London on 16th June.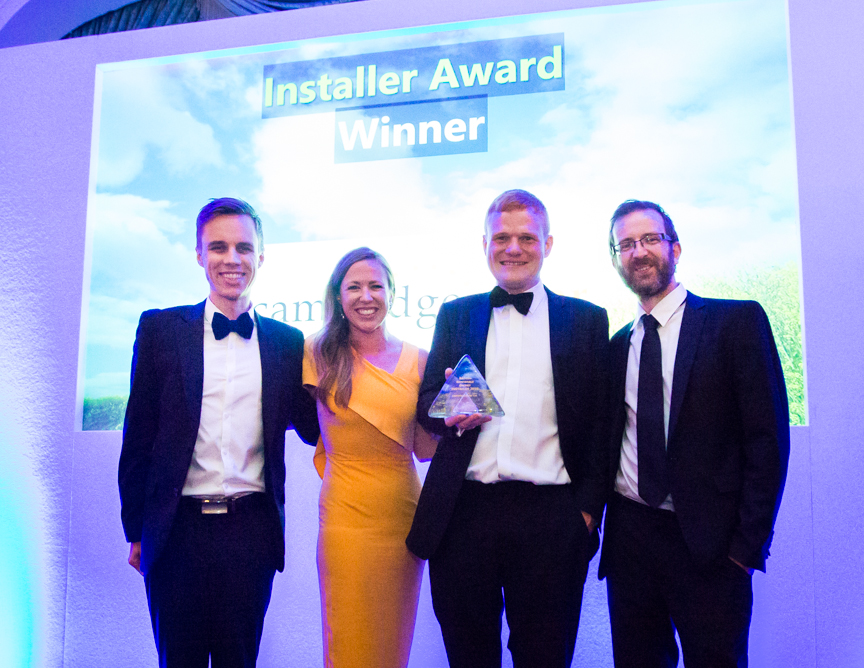 Founded by CAT graduate Owen Morgan, the company has installed solar panels at nearly 400 sites across the UK, including a recent installation for Cletwr Cafe in Tre'r Ddôl, near CAT.
Owen, who graduated from CAT in 2010 with a Masters in Architecture: Advanced Environmental and Energy Studies, said:
"There are thousands of renewable energy installers operating in the UK, so to have been selected by the judges as British Renewable Energy Installer 2018 is a huge achievement for us."
"I am deeply proud of our team and the work we do, and I'm pleased to be recognised by industry experts for our commitment to quality, and excellent customer service."
The company is celebrating a rewarding series of accomplishments.  In April, they won Best Solar PV Installer at the East of England Energy Efficiency Awards, and were also recognized at the Cambridgeshire SME Business Awards for Service Excellence.
"The emphasis on high quality, reliable, productive installations shone through in their application," said Virginia Graham, a 2018 judge and Chief Executive of the REAL Assurance Scheme.
For more information on our postgraduate courses, visit https://gse.cat.org.uk/