Build a natural house at Build It Live
Join us in Manchester at Build It Live North West on 23-24 February as we demonstrate building a natural house in the 'Centre for Alternative Technology Demo Zone'.
Building demonstrations will be running throughout the show, featuring a range of materials and methods that are covered in our new 'Build a Natural House' course:
Strawbale building
Cob building
Hempcrete
Natural fibre insulation
Timber frame joints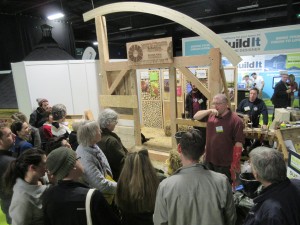 Natural building demonstrations
CAT mastercarpenter and tutor on our Build a Natural House and Build a Tiny House courses, Carwyn Lloyd Jones, will be demonstrating timber framing and cob building.
Dieter Brandstatter, who also teaches on our tiny house course, will showcase building with strawbales.
Hempcrete and natural fibre insulation will be demonstrated by Alex Sparrow of UKHempcrete and Natural Building UK, who teaches CAT's course in 'Hempcrete – retrofitting for self-builders'.
We'll also have people on hand to answer questions about CAT Graduate School courses, so if you can't make it to one of our open days then come and talk to us at Build It Live.
Also at the show…
Find practical solutions for your self-build or renovation project
Gain free one-to-one expert advice
Learn about eco-friendly building techniques
Attend free seminars on building a sustainable home, including materials, project management, planning permissions
Build It Live North West takes place on 23-24 February at Event City, Manchester.
Demo timings
10.30 – 11.30: Strawbale building
12:00 – 13.00: Hempcrete
13.30 – 14.00: Cob building
14.30 – 15.30: Natural fibre insulation
Timber frame joint demonstrations will also be running throughout the show.
Attend for Free
Click here to unlock 2 free tickets to see the Centre for Alternative Technology at the show – saving £24!