Earth Oven Building (Sold out)
The simple art of making outdoor ovens.
Join us for this practical, hands-on day where you learn the subtle arts of working with cob. Anyone can learn how to build their own oven, using natural low-impact materials that are easy to come by.
Key information
• Duration: one day
• Upcoming dates: please see booking section below for all available dates
• Start and finish times: 9.30am to 4.30pm
• Fees: £70
• Includes: tuition, all materials, lunch
• What to bring: as this is a highly practical course, safety boots are required
What you will learn
During the course you will gain practical skills and experience of materials, construction, and the use and application of earth ovens.
You will learn how to build a cob oven from scratch, build a sand former, puddle clay and sand, and knowing when it is ready to build with. Learn where to site your oven, how to access the raw materials, light the fire and discuss how to look after it in winter.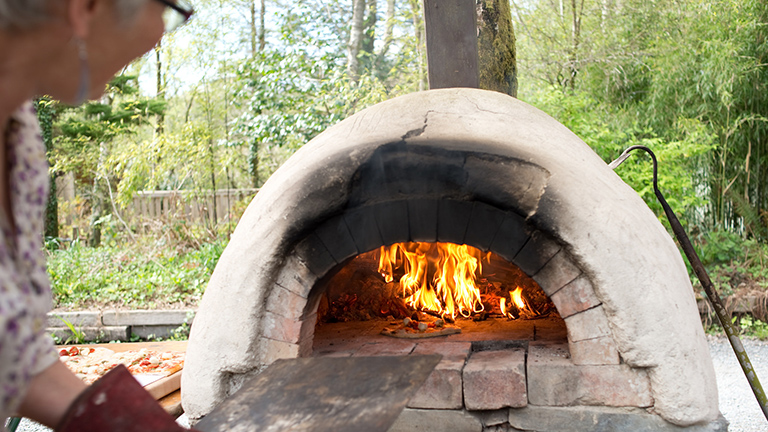 This is a very practical course, with ample time to ask lots of questions.
In the afternoon, your tutor will demonstrate lighting a fire in the onsite clay oven and you will have the opportunity to cook pizza prepared in the CAT kitchen.
This course is ideally suited to those working with community groups; schools; churches, village halls, scouts, guides and youth groups and anyone that enjoys food and eating outdoors. It is also particularly useful for any would be bakers or chefs that want to produce good, tasty bread or pizzas.
Meet your tutor
Bex Syrett as an MSc in Human Ecology and works as a community gardener and care farm manager at Fordhall Farm. Bex has a great deal of energy and enthusiasm for teaching, and her courses are great fun.
Searching Availability...
Searching Availability...