Green Christmas Fair
Green Christmas Fair
December 14, 2019
Home »

Green Christmas Fair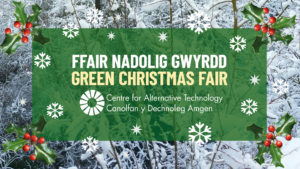 Bring the family to CAT's Green Christmas Fair on Saturday 14th December. Craft a gift or decoration, discover wildlife at winter, enjoy festive food and discounted shopping and more.
There's loads going on for all the family:
Get crafty! Craft a Christmas gift for a loved one at a free wood carving workshop or make beautiful Christmas decorations from felt and other natural materials.
Discover the secrets of the Christmas woodland – expert ecologist tours for all the family looking at how woodland support wildlife through the winter even when the leaves have fallen and the weather draws in. Tours head out at 11am, 12pm and 2pm from outside the CAT Cafe!
Get cozy in the CAT café with festive favourites or make use of discounted shopping on loads of inspiring green gift ideas in the CAT shop.
Discover Christmas from above in the Living Wales exhibition and learn how we can measure snow from space to help us manage solutions for the future.
Free Entry: Because Christmas doesn't need to cost the earth.