Meet CAT's new CEO
Meet CAT's new CEO
September 6, 2019
Home »

Meet CAT's new CEO
CAT's new Chief Executive Officer, Peter Tyldesley has just completed week one at the helm. We caught up with him to find out a bit more about his background and motivations as well as his aspirations for CAT and the planet.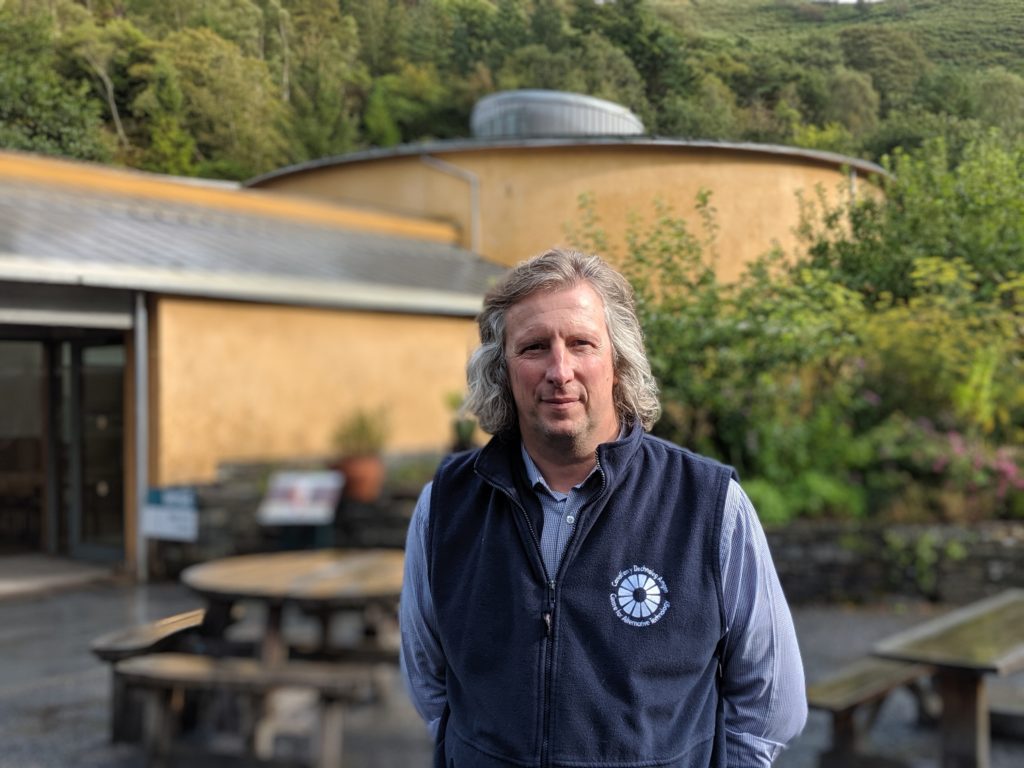 Tell us about your background and what you were doing before joining CAT.
I qualified as a Chartered Surveyor in 1993, which means that I have a longstanding interest in both buildings and land use, which are two of the areas in which the greatest opportunities exist to reduce greenhouse gas emissions.
This is the third time I have worked in Mid Wales, having worked for the Brecon Beacons National Park Authority as Director of Countryside and Land Management from 2004 to 2007, and for the Ministry of Defence as a surveyor/land agent in the early 1990s.
In my last job I was Director (CEO) of the Bradgate Park Trust, a charity in Leicestershire that operates Bradgate Park, a historic deer park that was the childhood home of Lady Jane Grey who was Queen of England for nine days in 1553. We used to welcome around 500,000 visitors each year and, as well as operating a visitor centre, two cafes, a gift shop and running a wide range of events from craft workshops to concerts, we also managed a herd of around 700 deer, who were the real stars of the show.
What brought you to CAT?
I first visited CAT in 2005, which inspired me to start thinking seriously about climate change.
Apart from that, it was just a case of the right opportunity presenting itself at the right time – after seven years at Bradgate Park, during which time I turned the charity around, I was ready for a new challenge, preferably one with a stronger focus on tackling the big issues such as climate change and biodiversity loss. CAT was looking for a new CEO and the rest, as they say, is history.
What drives you?
The feeling that I am making a difference and that what I spend my time doing all day is in some way important and meaningful.
I first remember formulating an ambition that I would one day be CEO of a well-known environmental charity about 20 years ago, since when all my subsequent career moves have been planned with that end in mind, although it is easier to see that looking back than it necessarily was at the time.
The world needs to get to zero carbon as fast as possible to avert climate catastrophe – how can CAT help make this happen?
CAT is uniquely placed to inspire, inform and enable an incredibly wide range of people on a variety of levels to take action on climate change because we are not simply a visitor attraction, an academic institution or a think tank but a remarkable mix of all these and more.
Beyond this, CAT's reputation as a centre of excellence and honest broker gives us access to politicians and decision makers looking for evidenced-based information and advice on what actions are needed to rise to the challenge of climate change.
Where do you see CAT in three years?
It would be great to think we would be seeking a new role because all the current pressing environmental challenges had been solved.
On the assumption that we won't quite have managed that within three years, I see a financially strong CAT that is clear about its purpose and contribution, that is widely known and respected as a Welsh organisation with global influence through a network of members, supporters, alumni and opinion formers, and which is recognised and valued as a source of knowledge, expertise and inspiration by professionals, governments and members of the public around the world.
Tell us a bit about what you do in your spare time.
I have been married to Nicola for 29 years and we have four grown-up children aged 21-27 (I know, I don't look old enough!).
Looking back, I seem to change my hobbies every 10 years or so: I spent my twenties playing rugby, in my thirties I got into endurance sport – distance running and triathlon – and in my forties I "accidentally" took up karate because two of my sons wanted to do it and I didn't want to just sit and watch; I stuck at it after they had moved onto other things and ended up gaining my black belt and doing a bit of instructing before "retiring" a couple of years ago. Nowadays I am happy to get my exercise through walking and gardening.
I am a trustee of an educational charity in Northamptonshire and am on the Board of Wellcome Trust Trading Limited, which operates the retail, catering and conferencing activities at the Wellcome Collection's premises in central London.