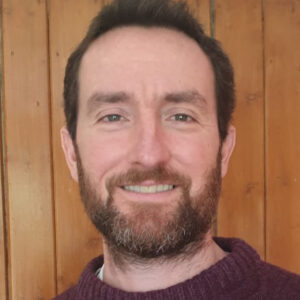 Dr Anthony Hurford
Zero Carbon Britain Hub Project Manager
Anthony believes in the power of collaborating and acting at the level of whole systems to address the biggest challenges we now face and find ways to live happier, healthier lives. He is excited about supporting positive change through CAT's Zero Carbon Britain Hub and Innovation Lab.
Anthony came to CAT from managing large research and consultancy projects at the University of Manchester; building capacity and online technical tools for integrated analysis of infrastructure investment in water-energyfood-environment systems. This analysis was the subject of his previous PhD and postdoctoral research.
For over 15 years, Anthony's work in governance, ecology, water management and conservation focussed on developing countries, where he felt the fundamental challenges for humanity lay. He came to recognise that the power of advanced technical analysis was more than matched by that of convening groups of well-informed people from diverse backgrounds to lead change at system scale.
Anthony sees that for all its progress, the industrialised world has led us down a developmental cul-de-sac, and the technology we need most here and now is social, i.e. ways to empower change in human systems which inadvertently undermine natural systems of which we are part.
Anthony believes CAT's legacy of leading the world with technology and showing how a zero carbon future is possible places it at the heart of efforts to inform, inspire and educate people to work together in new ways for the benefit of all. Anthony is inspired by all forms of the natural world and most enjoys exploring them with his wife and two boys, whether on foot, by bike, paddling or dangling from a rope.