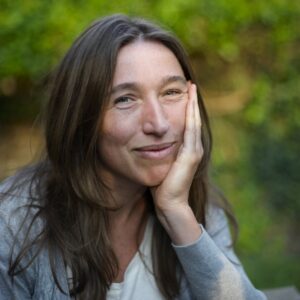 Sarah Jenkinson
Head of Policy and Communications
Sarah worked in CAT's media team in the late 1990s. Young and determined, Sarah springboarded from the immersive practical solutions on site to begin a career campaigning for governments around the world to take action. She has now come full circle, overseeing the strategy for the new Zero Carbon Britain Hub and is excited by the key role towns and cities will play in delivering ambitious zero carbon plans.
Sarah is passionate about engaging and mobilising people from all walks of life to help make change happen. With 20 years' experience of campaigning to influence policy, Sarah has helped mobilise millions of people around the world on issues such as climate justice, emission reductions, arms trade control, access to education, health and air pollution.
More recently, she has been helping diverse organisations and communities accelerate solutions to climate change in their own countries, by providing dedicated, tailored advocacy, campaign and communications support. She has also played a role working 'behind the scenes' within the international climate movement to help develop communications tools and aligned interventions to positively influence the public debate on climate change, and shift policies.
From Greenpeace to Oxfam and from the UK's Climate Coalition to Coalition to the Global Call for Climate Action (GCCA), Sarah is a highly driven, strategic and collaborative leader inspired by the emergence of 'climate emergency declarations' and the huge momentum for countries, cities and communities to get to net-zero.
Sarah has been working remotely from Mid Wales since 2011. Sarah can often be found swimming or enjoying a good sauna. She has recently been learning archery, and is embracing home-schooling her seven-year-old son with the help of deep breathing exercises!