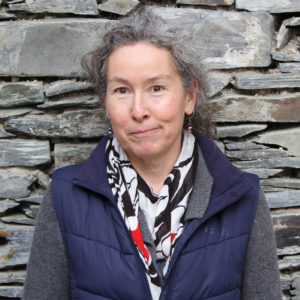 Dr Siobhan Maderson
Senior Lecturer
Siobhan has an MSc in Food and Water Security, and a PhD in Human Geography from Aberystwyth University. She uses archival analysis, interviews and mixed methods research to understand food systems, agri-environmental changes, food security, and the environmental knowledge of long-term beekeepers.
After an undergraduate degree in Social Anthropology from the LSE, followed by extensive travel throughout Asia, Siobhan spent many years working in a broad range of non-academic organisations.  These included one of the first organic food delivery companies in New York City; a luxury travel company organising guided tours throughout Asia; the New York office of Greenpeace; and London's SUSTAIN: The Alliance for Better Food and Farming. She then worked with the Environmental Law Foundation, a coalition of legal professionals, environmental consultants and community organisers working to share skills and resources to help individuals address environmental challenges in their communities.
She returned to higher education and completed her MSc in Food and Water Security at Aberystwyth University in 2014. This was an interdisciplinary course, with modules studied in Biology, Environmental Sciences, Geography, and International Politics.  She completed her PhD in Human Geography at Aberystwyth University in 2019.  She uses primarily qualitative data collated from interviews and archival analysis to investigate the environmental observations by long-term beekeepers.  She is a passionate supporter of multidisciplinary research, the benefits of mixed methods, and working across academic disciplines.
Research Interests
Food Security, Food Sovereignty, and the Agri-Environment
Environmental Justice
Traditional / Local Environmental Knowledge
Political Ecology
Environmental Governance
Citizen Science
Science and Technology Studies
Education
2015 – present: PhD student, Aberystwyth University, Department of Geography & Earth Sciences
2013-2014: MSc in Food and Water Security, Aberystwyth University.  (Distinction)
1986-89: BSc in Social Anthropology from London School of Economics (2.1)
Teaching Activities
Siobhan teaches lectures and practicals for both on-site and distance-learning students, particularly for the MSc Sustainable Food and Natural Resources programme.
Publications
Academic
Maderson, S. and Wynne-Jones, S. 2016 Beekeepers' knowledges and participation in pollinator conservation policy  Journal of Rural Studies, 45, pp 88-98, 10.1016/j.jrurstud.2016.02.015
Non-academic
Presentations
Beekeepers' Environmental Knowledge and Pollinator Decline: Insights from the Field Rovaltain Foundation, Valence, France, October 2017
Engaging With Beekeepers' Environmental Knowledge To Ensure Food Security: RGS, London, August 2017
Expert and Experiential Knowledge in Pollinator Policy: The Perspectives of Beekeepers: RGS, London, August 2017
Beekeepers' Local Environmental Knowledge And Food Security: Grassroots Challenges to Food System Hegemony: Aberystwyth University symposium on Environment and Security, June 2017
Bee in Transition workshop, University of Zurich, May 2017: Beekeepers' Local Environmental Knowledge: A Pathway for Sustainability
 CoLOSS B-RAP working group, Bologna, March 2017: Two-way traffic on the bridge: Investigating communication between beekeeping research and practice
European Network of Political Ecology, Stockholm, March 2016: Pollinator Policies and the more-than-human entanglements of beekeeping
European Society of Rural Sociology Conference, Aberdeen, August 2015: Pollinator policies and the more-than-human entanglements of bee-keeping: Siobhan Maderson, Sophie Wynne-Jones
Bee Farmers Association, March 2015: Bee Farmers' Association Archives: A historical review
Awards
May 2017: First Place, Aberystwyth University Three Minute Thesis (3MT) competition
February 2017: Finalist in ESRC "Making Sense of Society" Writing Competition
September 2015: Economic & Social Research Council PhD Scholarship
August 2015: Macauley Development Trust Grant to attend and present at ESRS Conference
August 2013: Access to Masters Scholarship