Salad workers of Spain
This blog post has been written by Lizzie Wynn from the Salad Workers of Spain project, she is also a student on CAT's Msc in Sustainability and Adaptation.
In Northern Europe, year-round we can buy almost any fruit or vegetable. Most produce arrives from Almería in southern Spain, known as 'the salad bowl of Europe', where irrigated, plastic greenhouses cover over 80,000 acres, over 125 sq. miles.
Almería is the driest place in Europe, with an average annual rainfall of 200mm and 3050 hours of sunlight. Farmers here discovered that this climate enabled all year fruit and vegetable production in greenhouses. Northern Europe supports this increasing demand for out-of-season vegetables and the industry is currently worth 2 billion euros/year to Spain, according to José Ángel Aznar, professor of applied economics at the University of Almeria.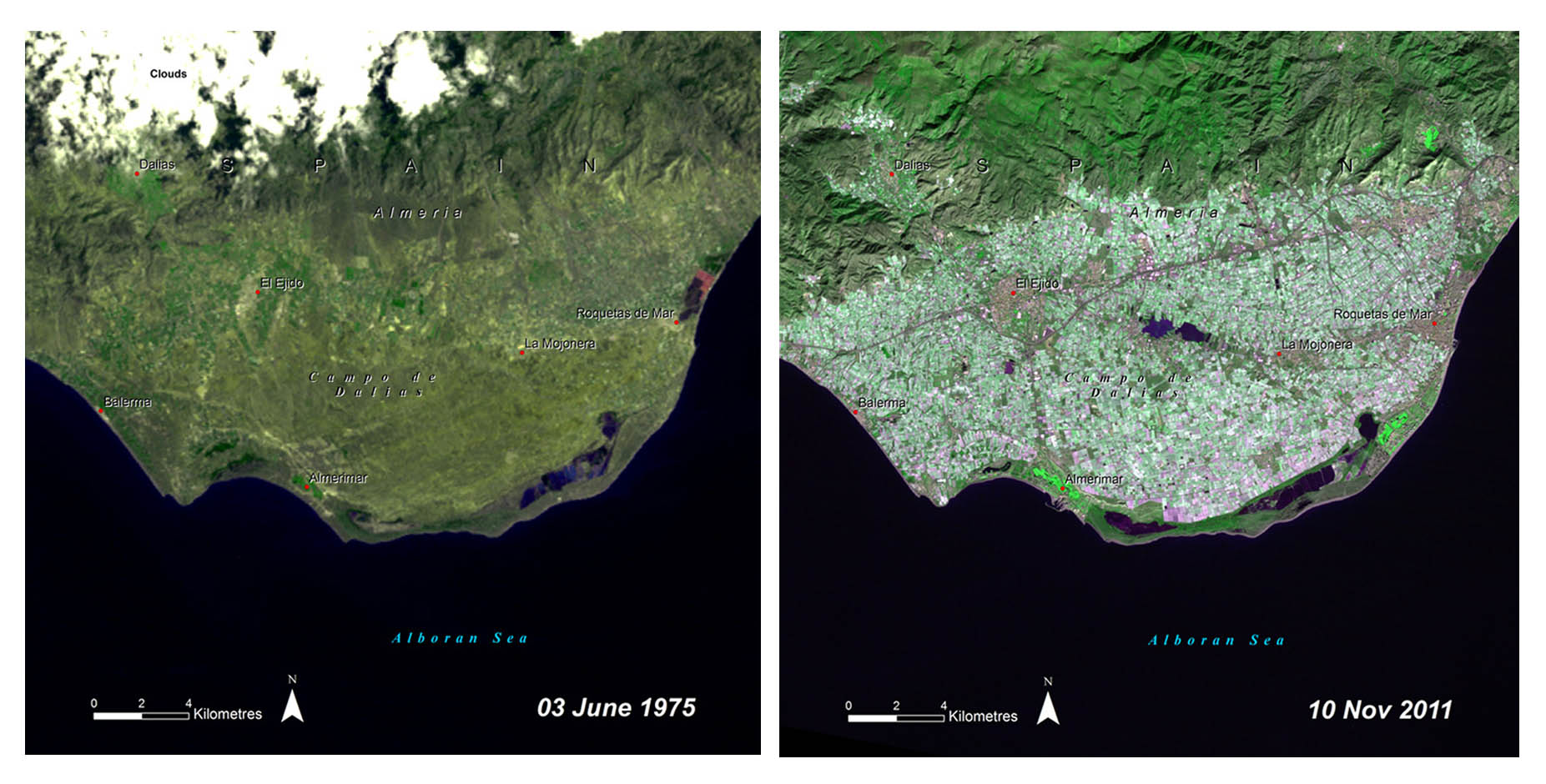 Farming in Almería
Farming in Almería is not predominately an organic venture. Terraces are dug out with heavy machinery on mountainsides and in dry riverbeds; there are subsidence risks. Soil is worn out by lack of introduction of organic material and needs replacing periodically or alternatively hydroponic systems that use pesticides and fertilisers are used. Soil-free farming has generated prosperity, and problems. Professor Nicolás Olea from San Cecilio hospital in Granada has documented the increased risks with pesticides.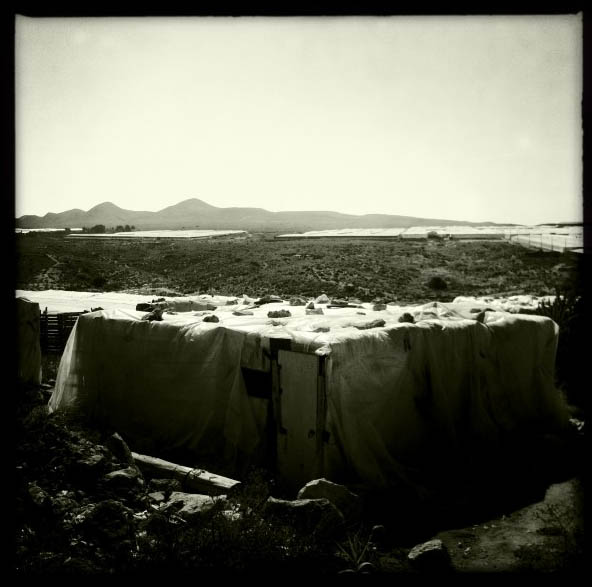 Water in Almeria
Water arrives by abstraction of ground water, which leads to salt-water intrusion and depleted aquifers. Desalination plants are increasing and so are water needs, more sources must be found. Degradation of water quality caused by human choices and activities is becoming clear.
Water demands from agriculture are in conflict with tourism and development. In the last forty years, tourism has grown substantially resulting in a building boom. Whilst white Europeans bask on the beaches, illegal immigrants, desperate to earn any money, are shooed away by police behind the greenhouses. They are expected to stay hidden in their shelters made from old pallets and discarded greenhouse plastic. Water for consumption and sanitation needs collecting, meaning old pesticide containers are sometimes the only option for this.
Workers
Profits rely on the exploitation of migrant workers.  In 2002, African immigrants from the Canary Islands were flown to Madrid, bused to San Isidro, Almería, and dumped in the town square. Local nuns took care of them then; their work continues today with increasing desperation. Today, survivors of expensive journeys into Europe from Africa, traumatised illegal immigrants,  face poor living conditions.
Work, in temperatures reaching 40-50 celsius, is hard to find and sporadic. Earnings are around 10-20€ a day. Reports of dangerous conflict when it comes to payday are also circulating. The recent economic crisis has meant locals and Eastern Europeans now also compete for these illegal jobs. According to Juan Carlos Checa, a researcher in social anthropology from the University of Almería, there were 80-90,000 migrant workers in the area in 2010. Racial tensions increase and there is little integration. European legislation are not intervening and it appears employment and environmental laws are being broken.
This appalling situation has led to the creation of the group, Salad Workers in Spain. Raising awareness in Las Alpujarras, about 80 miles away from the greenhouses, produced strong support. Initial visits transported food, blankets and money donations to the immigrant workers; guided by the nuns of San isidro. In the spring, the sustainable compost toilet building project began, which became functional in May, see fig. 3. The nuns chose the site in a Ghanian camp and the volunteers from Salad Workers encouraged the residents to join in with the project and learn new skills. The intention is that these skilled people will help with the next toilet in a neighbouring camp and already funds have been raised and supporters are beginning to appear from far and wide.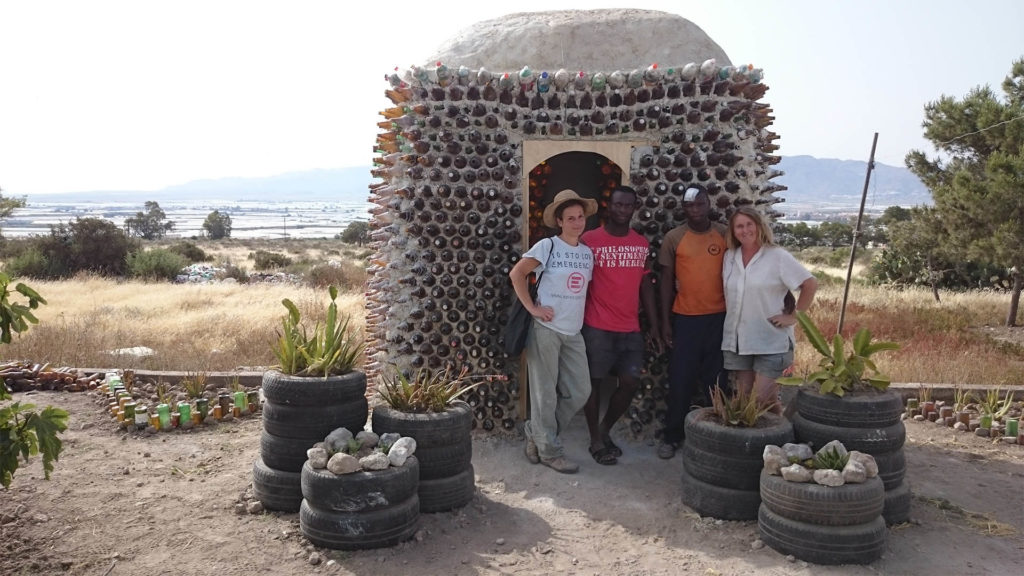 Salad Workers in Spain intends to build many sustainable structures, to provide some of the growing immigrant work force with increased dignity in these difficult circumstances. This can only be done if donations are received. Currently, no one is paid for any job and 100% of funds raised go into building materials and food for the workers.