Trees, woods and people
In celebration of the Tree Charter's 'National Tree Week', we caught up with Conservation Development Assistant Alex Chadwick to see how you can get involved!
---
For all of us in CAT's woodland team, this week is an important and exciting time.
National Tree Week was set up by the charity The Tree Council over 40 years ago as a way to kick start a national tree planting campaign, and it's been gaining momentum ever since. Every year at the start of the winter tree-planting season hundreds of schools, charities, local authorities, government bodies and individuals support the initiative by taking part in tree planting events all over the country.
We're thrilled to be taking part, and for good reason: this year is going to be a special one. That's because this year's tree week follows hot on the heels of the release of the 'Charter for Trees, Woods, and People', otherwise known as the 'Tree Charter'.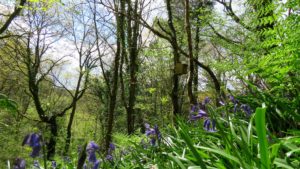 ---
What is the tree charter?
Pioneered by the Woodland Trust in collaboration with over 70 other organisations, the charter is a set of 10 principles that sets out how trees and woods benefit people and society, and how trees should be appreciated and protected so that future generations can enjoy and benefit from them as we have.
While a charter is traditionally a legal document granting certain rights to people, the Tree Charter is instead being built from the ground up with the support of ordinary people all over the country. With enough people power behind it, the Tree Charter could become a powerful tool to influence government, local authorities and landowners to give our woodlands the recognition and protection they deserve.
Although the Tree Charter has been gathering signatures and supporters for a while, it was officially launched on 6th November this year – the 800th anniversary of Henry II's historic Charter of the Forest in 1217, which allowed common people to access and use royal forests in England.
---
How is CAT getting involved?
In the run up to National Tree Week we've created a large display to inform our visitors about the tree charter, and have been collecting signatures in its support. We've also been collecting 'tree stories' from our staff, volunteers and visitors, about why they personally value trees and woodlands. The signatures and stories will be added to the collection held by the tree charter organisation at the end of the week. Even better, for every signature added to the list, they'll plant an extra tree in the UK!
In addition, we're running our own event on Saturday 2nd December. To mark the end of National Tree Week, we'll start off by doing a tree dressing to beautify the oak tree outside the CAT gift shop and decorate it ready for Christmas. Following that, we'll be planting a collection of locally native saplings and shrubs at the bottom of our wildflower meadow to grow into a hedge. We've also been busy collecting acorns and hazel nuts to plant in pots and grow on in the future – so there'll be something to do for all ages.
---
How can I help?
Please consider adding your own signature to the charter online at www.treecharter.uk. From their website, you can find out loads more about the charter, and if you're up for getting your hands dirty, you can also find a tree planting event going on locally for you. And of course we'd love to see you at our event on 2nd December!
Check out http://visit.cat.org.uk/ for details.
---
Why a hedge rather than a fence?
The dense foliage of hedgerows provides shelter for birds and small mammals, and the berries and nuts it produces are an invaluable source of food for them. They'll soak up excess water in boggy areas, provide a useful windbreak, and act as a boundary that's difficult for wayward people and large animals to cross.
As agriculture has become increasingly intensive and mechanised, hedgerows are rapidly disappearing from the British landscape. Because hedges provide sheltered, safe places for wildlife to cross otherwise exposed areas (like fields), they facilitate movement across the landscape. The loss of hedgerows is thus contributing towards the isolation and fragmentation of habitats, making it more difficult for animals to find food and suitable nesting habitat.
Putting a hedgerow across our meadow will help connect CAT's woodland to other nearby habitats – a simple but effective wildlife highway.
---
But isn't spring usually planting time?
For many plants it is, but the Royal Horticultural Society (RHS) recommends that trees and shrubs are actually best planted between October and April, as long as the ground isn't frozen. Since they aren't actively growing, they don't need much water or any fertiliser, and the soil and roots both have time to settle before the tree starts its next growing spurt. Just take extra care not to damage any roots, as the tree will struggle to heal itself effectively over winter.
---
To find out more about this Saturday's National Tree Week event at CAT see http://visit.cat.org.uk