Waste not, want not
In the Welsh seaside town of Aberystwyth, an innovative environmental group has been formed to tackle food waste. CAT graduate Chris Woodfield introduces Aber Food Surplus.
Around 1.3 billion tonnes of food is wasted every year – that's around one-third of the total food produced globally. The UN Food and Agriculture Organisation estimates that if food waste was a country it would be the third biggest emitter of greenhouse gases after China and the USA . It's a huge problem – but what can we do about it?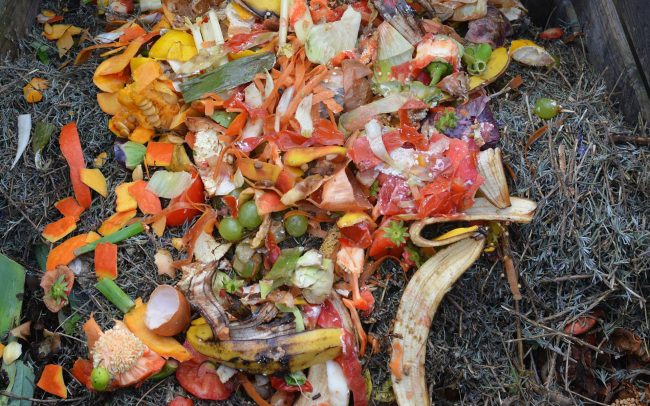 Founded in March 2017, Aber Food Surplus is a not-for-profit social enterprise that works on a local level to highlight and address food waste through hands-on, proactive and positive action. The group currently collects around 300kg of food from supermarkets each week and redistributes it to local charities and community groups in and around the Aberystwyth region, whilst also running food waste education events and offering pay-as-you-feel meals.
Beginnings
The group was set up by three recent graduates of Aberystwyth University – Heather McClure, Chris Byrne and me. Before we created Aber Food Surplus, we had worked together to set up the Aberystwyth University student-led Sustainability Society, where our first campaign was focused on raising awareness of food waste at the university. This work ultimately led to the university installing a food waste collection service in all of its student accommodation. We were keen to build on this success and widen our reach to take in not just the university campus but the rest of the town as well.
When we founded the group, Heather had recently graduated from an MA in Regional and Environmental Policy, Chris was studying for a PhD focusing on global food security, and I was studying for an MSc in Sustainability and Adaptation at CAT, which reinforced my inspiration to tackle global issues in a practical and solutions-focused way within the local community.
We were all inspired to take action, but we were also all working full-time in minimum wage jobs. For more than a year, we ran the project in odd hours between work and study, managing daily food waste collections from Morrisons, Tesco Express, Tesco Superstore and M&S, and distributing food to between 10 and 15 groups in Aberystwyth. On top of this, we also ran a Community Café pay-as-you-feel pop-up event every other week, providing a total of over 1500 surplus meals during this time, and we established a pilot weekly pay-as-you-feel lunch in a local church.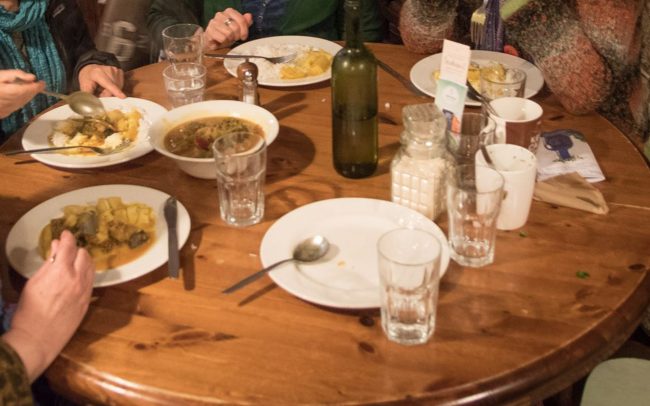 Reaching further
The project was nearing its capacity on volunteer time, so in December 2017 we decided to apply for grant funding to help us expand our work. In April this year we were awarded funding from the EU and Welsh Government, allowing Aber Food Surplus to employ two members of staff for 30 hours a week and one member of staff five hours a week.*
The new funded project focuses on four key elements, which are: waste management innovation; community outreach; campaigns, marketing and promotion; and research and development. These focus areas combine the expansion and development of volunteer engagement through food surplus collections with the already thriving active community presence through more creative and effective public engagement and targeted education. For example, we are working with schools, the university, youth groups, families, the elderly, and clients of the charities and community groups that we deliver food to.
The waste management innovation side of the project focuses on tackling food waste at source; it is centred on preventing and reducing waste as well as exploring other innovative schemes with local businesses. Example activities include a community fridge, community composting schemes, trialling the use of apps in reducing food waste, and experimenting with more engaging and sustainable ways of collecting and redistributing food, e.g. using bikes and electric vehicles.
Ultimately, the group aims to enable and facilitate the town of Aberystwyth to demonstrate that it can become a zero-food-waste community as well as a thriving, exciting and connected place to live, with rewarding and fulfilling opportunities for everyone.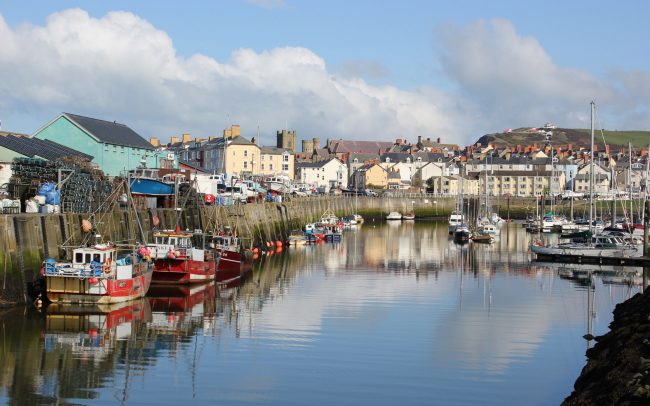 Why food waste?
The issue of food waste caught the public's attention with Hugh Fearnley-Whittingstall's primetime BBC programme, Hugh's War on Waste, in late 2015. By highlighting the level of food waste across UK farms, retailers and households, the programme shamed supermarkets into action.
Morrisons, which at the time was the only large supermarket in Aberystwyth, was looking for pilot food redistribution projects across Wales. With the aid of WRAP (Waste and Resources Action Programme) Cymru, this enabled us to start food waste collections and redistributions. The team already had contacts at WRAP Cymru and were inspired by the likes of Tristram Stuart and his company Feedback, as well as the food waste organisation This is Rubbish, which was originally founded in Machynlleth by CAT volunteers.
In addition, whilst collecting this food waste and starting to organise community events the team realised the beautiful potential of using food, especially food that would have been wasted, to bring people together. Food has the amazing ability to bind communities and allow people to connect with each other, learn, share stories and ideas and enjoy each other's company, no matter what background, nationality, age, demographic or social hierarchy. This is reflected in the core values of Aber Food Surplus which are happiness, community and creativity.
How you can help
Aber Food Surplus has recently launched a new website so do please take a look!
We will be posting regular blog articles about food waste and our journey as well as information about upcoming events. If you would like to partner with us to run an event, please get in touch – we're always looking to expand our network.
If you would like to start a similar project and would like advice, or if you have any suggestions for us, we're more than happy to chat – drop us a line at aberfoodsurplus@outlook.com

About the author
Chris is a graduate of CAT's MSc Sustainability and Adaptation, where his dissertation project focused on nature connection, happiness and pro-environmental behaviour. As well as his work on food waste, Chris is also passionate about tackling ocean plastics and is the coordinator of Plastic Free Aberystwyth as well as a number of other community-based environmental projects.
* The funding for Aber Food Surplus is from the LEADER scheme through the Cynnal y Cardi Local Action Group (administered by Ceredigion County Council) which is funded through the Welsh Government Rural Communities – Rural Development Programme 2014-2020, which is funded by the European Agricultural Fund for Rural Development and the Welsh Government.