Wild CAT – new nature connection course for rewilding the self
A figure emerges from the undergrowth, with mud-covered face and a wild look in the eyes. Is it a fox? A badger? A wildcat? No… it's a participant on CAT's nature connection course! Kara Moses reports…

Traditionally, people have had an intimate, even sacred, relationship with nature, recognising and honouring our dependency on the natural world for our very survival – indeed understanding that we are the natural world, not separate from it. As Thich Nhat Hanh says, "The Earth is not the environment. The Earth is us. Everything depends on whether we have this insight or not."
In more recent times in our history, we have come to see ourselves as somehow separate from nature. We have created socio-economic systems that don't honour our place within the web of life; nature is treated as a resource to be used for human profit and pleasure, as a waste dump to discard the spoils of consumerism, or as an adventure playground.
This separation works to devastating effect, causing not only ecological – even civilisation – collapse, but exploitation of people, growing inequality and greater suffering in our world. There is a clear need for a deep shift in perspective individually and collectively, towards a life-affirming worldview and social structures that honour our Earthly home.
Why connect with nature?
The emerging field of ecopsychology is discovering that it is not only our relationships with our family and society that fundamentally affect our well-being and inform patterns of behaviour, but also our relationship with nature. To begin to heal the broken relationship with the natural world and each other we must reclaim meaningful connection that brings us into a deep, embodied sense of participating in a cosmos full of wisdom, value and meaning.
Rekindling this sacred connection to the earth and all its inhabitants has the potential to heal the sickness of our times, transforming social relationships. A growing body of research shows that increased time in nature brings greater happiness, better mental and physical health and emotional resilience. Connecting to nature supports us to connect more deeply with our selves and others.
Deep solidarity
Research also shows that feeling more connected to nature also leads to an acting as well. Through recognising that we are in fact part of it, people who feel more connected to nature are more likely to display 'pro-environmental behaviour'. They begin to see that we are not defending nature – we are nature defending itself.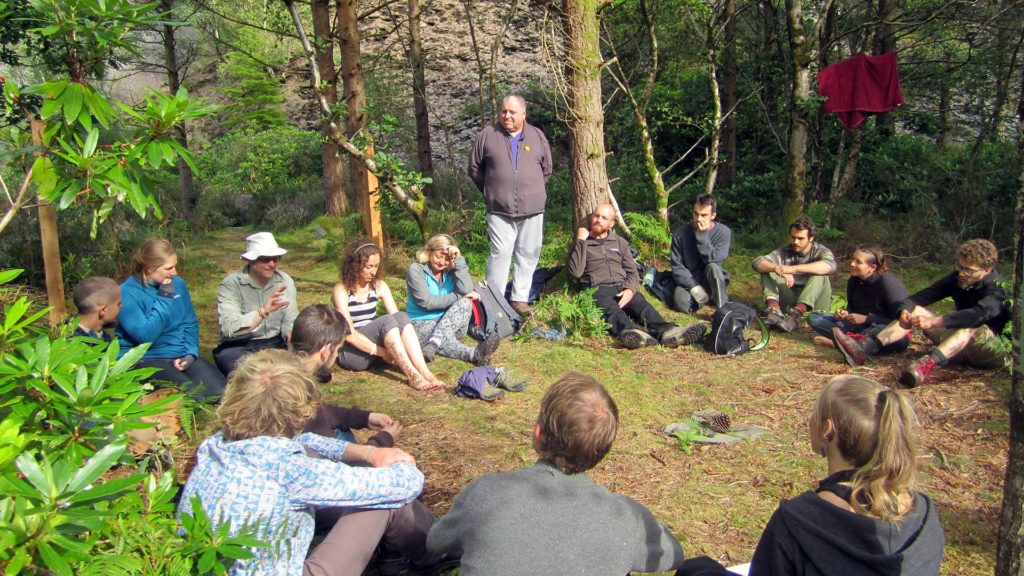 Here at CAT we've recently added nature connection to our short course programme. The first one ran in late summer, and went down a treat. Through play, mindfulness and practical nature connection exercises, we developed our powers of observation and saw all sorts of natural delights we would normally miss, with a renewed sense of awe and understanding.
Together we developed skills to interpret the natural world, such as tracking, understanding bird language and the body language of trees. We played games to help increase our sphere of awareness and reduce our sphere of disturbance to see and understand more of our wild cousins, and explored the theories of deep ecology and radical ecology. And we spent lots of time outdoors in the beautiful surroundings of CAT – we were a pretty feral bunch by the end!
More feral less fearful
I'm glad to say that the participants have been putting their experience and learning into practise in their daily lives, enjoying more time out in nature cultivating meaningful connections. One participant said a week after the course: "I'm listening to the birds with a new sense of understanding and joy."
Some have made even bigger life changes: "I spoke about wanting to make a healthier more sustainable life and career change. It's always a nerve wracking thing to leap from what you know into what you don't, but the course inspired me to take this step and run nature connection walks myself. It's great to connect with people over a subject that is intrinsically meaningful. More feral less fearful!"
Kara Moses leads nature connection courses at CAT and independently. She also takes care of CAT's natural water treatment systems and is a freelance journalist, Forest School leader and grassroots trainer.